Meet the Aspire: Jana "vVv BabyToss" Otahalova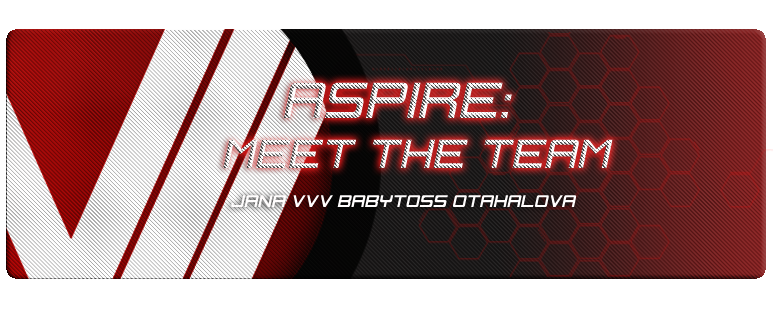 Written by Ott Madis "Oakwarrior" Ozolit
Hello everybody! My name is Ott Madis "Oakwarrior" Ozolit, a vVv community member and lurker (lol), bringing to you an interview series, with vVv's Aspire team. With the Aspire team in vVv well underway with its endeavours, I was asked by our very own BabyToss to complete the interview series with Team SC2 Aspire. First up, or rather fifth up, is actually Jana "vVv BabyToss" Otahalova herself!
As a brief introduction to her doings, Jana is a 27-year-old Protoss player, and team captain for vVv's Team SC2 Aspire. She joined vVv Gaming in the first half of 2012, and has been working hard on her skill and gamer persona ever since. But enough of that, let's hear from Jana herself
Interview with Jana "BabyToss" Otahalova
Alrighty then, lets start! How are you doing today?
"Hey! Well, I had rather rough week, so kind of tired. But eh, gotta fight when it matters."
I see, I hope you will get some rest soon enough. Could you give a short introduction of who you are?
"Introductions... I am oh so good at those (laughs). My name is Jana Otahalova, although my StarCraft 2 handle is BabyToss and it's how you'll most likely meet me. I'm nearly 28 years old soon - yes, birthday incoming! I live in the Czech Republic, I am married and have a 8-year-old son."
Well now that the hardest part is over, lets move to the fun! To the people who haven't seen you around and/or read your blog, could you talk a bit about your early days in StarCraft 2, and how did you end up playing it?
"Hardest part over, hm? Getting tricky, aren't we? (laughs) It's a long story actually, so, let me try and shorten it a bit. Originally, I come from an RPG'er background. I love a good story and heroics, so, StarCraft 2 is actually my first RTS and I originally played it only because my husband and son enjoyed it and they simply needed mommy to come play with them. Naturally, I was terrible, as I had literally no idea how to play - so you can imagine, my enjoyment was close to zero. Although, me being me, I didn't want to be the one who was the worst, so I looked into the game and began to learn the ropes of the game. this is how I got to know about Day[9] too, and partially because of his knack for explanations and humour, I finally began delving deeper into the game.
Honestly, if you told me, that I'd be so passionate about the game when my husband first brought the game home, I'd just laugh at you. But today, I am happy for that little discovery."
Tricky is my trademark I'd say! I reckon it must have been quite the leap from one genre to the other, but you have managed to keep it together in an exemplary fashion, in my humble opinion. How did the next steps in your StarCraft 2 career pan out and what led you to vVv?
"Well, the leap was huge, that I can confirm. You know, in RPG's, when you die, you either just load your old saved game or get "rez'd" by teammates if it's an online one. So, much easier (grins). In StarCraft 2, every little thing matters. One mistake and you can easily go and type "gg", even if the game lasted for half an hour, where you fought a fierce battle. Let alone, the aspects of the game, they were very foreign for me. But, I guess, the fact that the game poses so many challenges in front of me, is the exact reason why I love it so much.
The first team I joined was from the Czech Republic and I hoped to learn a lot from them. But, you know what, they only picked me up because I was a woman and I never really got anything from that. I wanted more and this whole female issue in the community really bugs me. I want to get better. Not to be a mere team mascot. That is why I looked elsewhere, ending up in female-only Team Fem-FX; only to find out that both I work better with guys as well as the team was way way too casual for me. I needed more motivated and dedicated people around me.
Which is how I actually found out about vVv Gaming. In fact, I'd been watching them since like end of 2011, but I never had the courage to ask to join. In the end, it panned out wonderfully, because I was originally approached by SugarBear if I wished to write for their SC2 section."
Talk about a bumpy ride. I guess that's something to be expected when you are in the search for "your own place", so to speak.
How is it in vVv right now, with you being the captain of the trainee Aspire team? Everything working out?
"Things got really up to the speed once Aspire was launched. It helps to be around like-minded people greatly. Of course there are occasional bumps here and there, but that is to be expected. Nothing is flawless, there always will be stuff which needs to be improved. But you know what? I always wanted to be part of the team, which accepts me for being a StarCraft 2 player, not because I happen to be a woman. And I have to cut slack to vVv Gaming - they never treated me any different because of that. So, it is easy to feel like home, part of the team."
That's really good to hear! How has Aspire affected you as a player, in general? You mentioned starting out as a writer, but I reckon that did not stop you from tearing up the ladders and/or training.
"Actually, I never took up the offer of being an official writer for vVv Gaming. I straight out came to SugarBear and Jerry, that my main dream was to pursue the dream of improvement as a StarCraft 2 player and a person. I was looking for serious improvement and then idea to form an Academy team in vVv came into my mind. I wrote up a couple of pages about the idea, sent it both to Jerry and SugarBear, with hopes they would support the project. It took some nagging - yes I am highly impatient (laughs) - but here it was.
I didn't expect to be put in the charge of the team though, so that came as a surprise, but when you think about it, it makes sense. I know the best what the vision and goals of the team are. Who else was supposed to lead the team than me? Can't blame the old guys, and in the end, I find that particular experience truly enriching for me. I love learning and growing, so, this is an awesome opportunity for me.
Annnd well... it is no secret I am not a fan of ladder for practice. In fact, since I began playing with Aspire, I barely even laddered. Either I practice on my private account or pick up my teammates for practice. You know, it helps immensely, when you can go to your teammate and say, ask them to 1/1/1 you a couple of times, so you grab firmer grasp as to how to deal with it. Imagine anything you struggle with, and you can compare it to power-leveling with a higher level group in a MMO! (laughs)
Aspire gives me motivation to go on. Before Aspire was formed, I was on a huge depression and it stopped me from playing for nearly 6 months. Because of Aspire, I have a road in front of me again. (smiles)"
Wow, your perseverance really paid off, and as for ladder, every player has his own way of improving
Now, as indicated by your handle, you're a Protoss player. What's the story behind the race choice and how does it equate into your nickname (cute Zealots aside
)?
"I was actually wondering if you'd ask! Yes, of course. "My life for Aiur!", Protoss is the race of my choice (laughs). I originally picked Protoss, because you know, I played Protoss campaign in original StarCraft, purely because of their awesomesauce lore. Remember, I am a RPG'er, so it makes sense. Protoss have the most moving lore and story. And no, I never played Terran nor Zerg and I even used cheats to get through the campaign! (laughs) Just for your information, I was like 12 years old by then, so laughing is not acceptable.
My handle is actually a funny story too. You know, originally I went by my old RPG name I was using literally everywhere. But then, my friend and me began playing 2v2's - his handle being PapaToss - and since he was basically helping me with the game, an idea to change my name to "BabyToss" came; it sort of represents the fact that in terms of StarCraft 2 experiences and skills, I am merely a baby, who learns to walk, fight and tear stuff apart, as well as by then, he was really my Protoss daddy back then - symbolically speaking (laughs)."
Ah, good ol' "power overwhelming"… I, too, hold a very special place in my heart for the Protoss lore, although I am a Zerg player - I find it's very well written. How about your playstyle though, are you more of an offensive player or do you like to play it more on the safe side?
"Well, I am in love with long played out macro games. It's, I'd say, my biggest strength, as back when I started, all I'd hear hurled around at me, would be "learn to macro, learn to macro". It's literally the only thing I ever did since my early days. I play way too safe, sometimes sadly to the point of playing "scared" rather than safe. It often costs me the games, as you have to take a risk at times. Although, this is where mindset kicks in - I am not exactly confident in myself, nor my skills, so it actually soaks into my gamestyle. Something to address, so to speak.
On a funny note though, because of that, I am probably one of few Protoss players, who never proxy gated nor cannon rushed! (laughs)"
Whoa! Even I tried out cannonrush at one point
Who do you look up to, as players or idols, in the StarCraft 2 scene?
"The first person coming to mind is always White-Ra. His attitude as well as wisdom, its something I really look up to. He is what I believe should represent the term of "pro-gamer". Being a professional is not only about kicking every ass you meet on the tournament. You need to be a personality. Because, frankly, if we want this industry to grow, we need people, who inspire others, who make others to say "This is what I want to do, and this is how I want to be.". White-Ra is a genuine personality, has a great love for the game and for the scene. I'd like to be like that one day, if I manage to reach these heights, in terms of skills. There are more people I look up to, but White-Ra is the one who I admire the most, thus he is getting a little shout-out here. (laughs) Reminds me I still owe him some beers since DreamHack Summer."
It's very heartwarming to see a player with such a mentality, makes me warm and fuzzy inside (laughs). Can you tell me what are your more immediate goals concerning StarCraft 2? A little birdy told me you are visiting the Ministry of Win house early next year!
"Ohhh, now I regret plaguing the people I interviewed with this question! (laughs) But it's almost a must, so, let me think about this. My goals are, to actually prepare for my training at Ministry of Win - damn birdies flying everywhere and sharing my oh-so-not-secret... secret (laughs). Right now, because of my personal struggles, lack of self confidence and being prone to tilting/frustration from not playing well enough, my practice tends to be erratic, unorganized and inconsistent. I need to grow stamina in order to be capable of enduring the house's schedule, as well as more immunity to tilting. Of course, will have to hit the ladder, as when in the house, it will be the quickest way for me to get games in. Another goal would be to fix my personal schedule, as even that one is pretty bad at the moment, me going to bed around 4-6 am, waking up at 10 am, barely sleeping at all.
So, my goals kind of encompass more than just StarCraft 2 - but again, the mental side, physical side and the game are very interconnected. To fix certain issues you have to work on other, seemingly unrelated issues. It's a challenge in front of me. But I want to face it, and face it fully. Hoping that my teammates will help me on this little quest too.
I want my stay at Ministry of Win to strengthen me, both as a player and a person. For me, StarCraft 2 has become part of my life, a way for me to grow as a person, due to many aspects and layers the game hides within. And hopefully, want to cause couple of upsets and all-kills in the team leagues upon my return from Ministry of Win (laughs)!"
Noble goals
I hope it'll work out great for you! And wow, look at the time flying - I promise, only a few more questions. How would you say is StarCraft affecting your other interests? It would seem that your family, at least is quite hooked on SC2, reeling you in over time.
"Well, StarCraft 2, to be totally honest, affected the person I am, completely. I had some rough times in my life, which caused, the loss of all self-esteem and self-confidence. Before, I'd give up on stuff when facing struggles really easily. While I still have the struggles with me, I now have something, which I love so much and which makes me to push forward.
I began practicing Karate a year ago as well, to improve my physical shape and mindset, purely because of StarCraft 2 as well.
As for my family - well, no, they actually gave up the game, when I began playing better than them. My husband, when we played our last game and I beat him like, 5:0, flew away with his Command Center and was like: "Not playing again, this game is a stupid speedclick" - and this is how he was done with the game (laughs) But, they do support my ventures to grow as a person and player; it's why I actually can go to Ministry of Win, because my husband took it on himself to handle the household and our son during my absence. So, I am not complaining, I am hoping that I can give it all I have, both for my own sake, as well as for my son and husband, who trust in me, despite me being really difficult at times."
It's really nice to know that you have their support. Do you have any suggestions for other aspiring (pun intended) players as well, who want to "Go Pro", so to speak?
"I cringe when someone says "I want to go pro". Frankly, my goal is not to be a pro and I am not even remotely close to that skill level either. My highest goal is to be as strongest player as I can be, as well as better person, while doing something I love. And this is what I would suggest to anyone "aspiring" to be a pro. Just put your heart and best effort into what you love doing. StarCraft 2 can be an awesome journey, if it's something you truly enjoy and love."
Agreed! Another quick one: most memorable moment in your StarCraft 2 career?
"Definitely attending DreamHack Summer. I had to face my personal struggles and fears there, being really shy and anxious person, as well as I got to see the most awesome StarCrafty atmosphere in my life. I felt joy, I nearly cried when I lost my game against Merz, but in the end, such an overwhelming event. And I got to meet White-Ra as well! I am hoping to attend DreamHack next year as well... and cause some upsets too! (grins)"
Hope to see you kicking ass soon
So, wrapping this up, do you have any special thanks you want to give out?
"Yeeeah, my favourite part! So, my shout-outs to team Aspire, vVv Gaming - glad I can be part of something bigger, then, my thanks to certain Ryan Rushia, he knows why, can't forget to mention people like Rob Feeley, Allen Rulo and Fraser Bedwell, they also know why, love you guys, of course, huge appreciation and hearts to my husband and little son, who keep me going despite of me being a difficult pain in the ass at times and also to my mom, who still waits for me to stream my games. Hearts all out! (laughs)"
Thank you so much for the talk! I hope you enjoyed doing this as much as I did, and I wish you the best in your coming ventures.
"It was the biggest interrogation I ever went through. Thank you and will see you around!"