vVv was on deck with what wasn't just the first big event for Super Smash Bros. in 2012, but what was the largest Super Smash Bros. Tournament in history!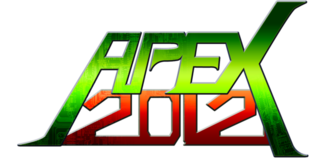 Apex 2012 just happened last weekend and was a blast! You recently heard of vVv's Mortal Kombat Division doing work at Apex and know that the Smash division was also on hands at the event in full force! Even with it's large roster of games, Apex 2012 was home to over 400 competitors battling it out in Super Smash Bros. Brawl, making it the largest Super Smash Bros. tournament in the history of the entire series! Our competitors on hand were our manager vVv Chibo, vVv Zero, vVv Cheese, and our newest recruit, vVv ESAM.

The host, Alex Strife, with vVv Zero on the main stage.
One of the greatest parts about Apex 2012 was of how special of an event it was for our division and vVv Zero in particular. vVv Zero is a 16 year old competitor from Chile, who happens to be the best player in his country. We have been hard at work for months in helping him get to the event, and are very glad to see him here in the competition. It takes a lot of hard work and diligence to make a trip like vVv Zero did on his own at his age, and we want to congratulate him on his efforts with that!
The competition was fierce at Apex 2012. The best competitors from all over the world met at Rutgers University in New Jersey for this monumental event. With players from all over the US, Canada, Europe, and even Japan, our competitors with vVv Gaming surely had their work cut out for them. Throughout the three days of the event, Super Smash Bros Brawl took place on Saturday and Sunday. The first event was doubles, and we saw great performance from our teams. vVv Zero teamed with Kadaj, a top Marth main from North Carolina. vVv ESAM teamed with MVD, a player who lives near his home in Florida that he teams with often and earns top placements. In a last minute decision, vVv Chibo teamed with Leon, one of the best players from Europe.

(Left to Right: vVv Zero, Kadaj, vVv ESAM, Mekos, MVD)
vVv Zero and Kadaj duke it out against vVv ESAM and MVD on the main stage at Apex 2012.
vVv Zero and Kadaj took the highest placement of the three teams getting 9th place in the 128 team bracket. The two together defeated vVv ESAM and MVD (as pictured above) to earn their stellar placement. In what was likely the most exciting tournament set any of our three teams participated in, vVv ESAM and MVD defeated vVv Chibo and Leon 2-1 in round 3 of the winners bracket. You can watch the exciting replay of the set here on YouTube:
http://www.youtube.com/watch?v=VbLBMOfVT_E
The team tournament was great, but the real competition was singles. An immense 400 player event with four vVv competitors to take it on. vVv Chibo was put up against Nicole in the first round of pools, known for being the best female at the game, and likely the best Peach. vVv Chibo took the set with a convincing 2-0 victory and won first seed in his pool. vVv Cheese had to fight Orion in round 2 of pools, a skilled New Jersey player who has been living in Europe for the better part of a year now for school. Despite getting a high placement later in the tournament, Orion fell to vVv Cheese, who won the set 2-0.
Our best two players vVv ESAM and vVv Zero made a surprising showing at the event. Many of the US players were skeptical of vVv Zero's skill since he has never played with any US player before in person. vVv Zero proved that he is indeed worth the hype taking 17th place at this massive tournament. vVv Zero took down many big names throughout the event including Lain and Trevonte. vVv ESAM had one of the most successful placements at the event, getting 4th place! vVv ESAM breezed through both rounds of pools with first seeds in each, and defeated six different opponents in the final bracket. Most notably, vVv ESAM defeated:
RAIN - A skilled player from Japan
Logic - One of the best players from Maryland
Gnes - The player who won the 2010 MLG Pro Circuit
Ultimate Razer - One of the best players from Texas
Kakera - One of the best players from Japan

vVv ESAM stares down his opponent Nietono in losers semi finals.
vVv ESAM put up a tremendous fight in the hardest Super Smash Bros. Brawl tournament to ever take place. He placed the second highest of any American player in the event and took down numerous top names that many people originally had predicted to make top 8. Being in vVv for such a short amount of time, vVv ESAM continues to surprise everyone with his placements and prove that he's easily one of the best players in the game, period.
Watch vVv ESAM's exciting match vs Kakera in the losers semi-finals round of Apex 2012 here:
http://www.youtube.com/watch?v=PcEK06R0h1Y
You can find full results and videos from Apex 2012 on their main site here:
http://www.apexsmash.com