Worlds 2015: Semi-Final Advice
Entry posted by Ballack ·
972 views
Worlds 2015: Semi-Final Advice
Here are the Semi-Final Odds:
FNATIC and SKT are the favorites to head to the World Finals. I would recommend fading ORG as SKT have looked near unstoppable. KOO provides some interesting salary relief plays.
Here's a list of all the players left in the tournament: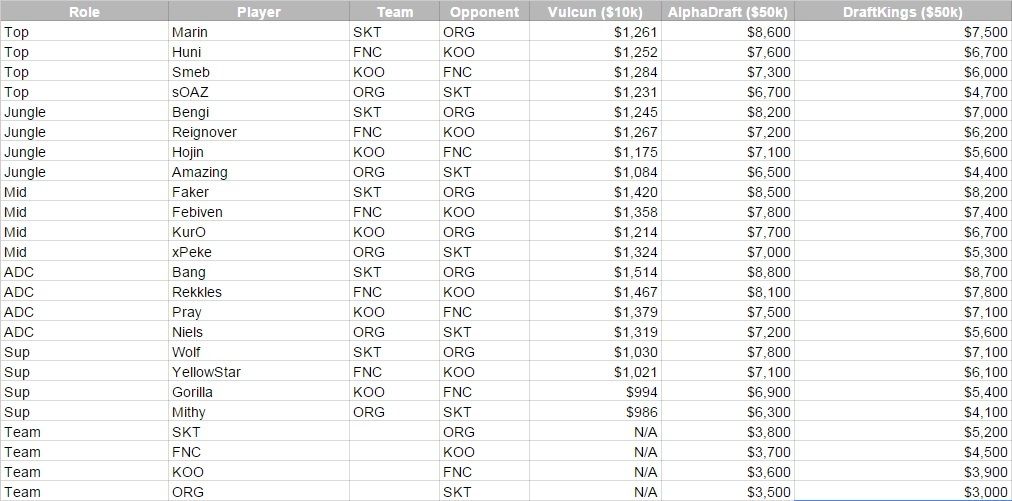 Vulcun:
Top: Marin (SKT) ($1261)
Jungle: Hojin (KOO) ($1175)
Mid: Faker (SKT) ($1420)
ADC: Bang (SKT) ($1514)
Sup: GOrilla (KOO) ($994)
Flex One: Huni (FNC) ($1252)
Flex Two: YellowStar (FNC) ($1021)
Flex Three: Febiven (FNC) ($1358)
The first thing to note is that Vulcun is combining the Semi-Final and Final rounds into their contests this week. With that in mind you need to select mostly players who are going to make it to the finals so you get two weeks worth of points. For me, it was SKT and FNC so I took the limit of three per team from each. The other two spots I gave to KOO Tigers as I think they have a better chance to make the finals than Origen.
Alphadraft:
Top: Marin (SKT) ($8600)
Jungle: Hojin (KOO) ($7100)
Mid: Febiven (FNC) ($7800)
ADC: Bang (SKT) ($8800)
Sup: Gorilla (KOO) ($6900)
Flex; Yellowstar (FNC) ($7100)
Team: FNATIC ($3700)
Draftkings:
Top: Marin (SKT) ($7500)
Jungle: Hojin (KOO) ($5600)
Mid: Febiven (FNC) ($7400)
ADC: Bang (SKT) ($8700)
Sup: Mithy (ORG) ($4100)
Flex; Huni (FNC) ($6700)
Flex; Gorilla (KOO) ($5400)
Team: FNATIC ($4500)