Worlds 2015: Quarterfinals Fantasy Advice
Entry posted by Ballack ·
1,474 views
Worlds 2015: Quarterfinals Fantasy Advice
Ready for the knockout rounds? The group stages were filled with plenty of exciting games, favorites and underdogs prevailing, teams from North America letting us all down, and some good fantasy picks and some bad. As in everything in life its impossible to be 100% correct on my picks everytime. I use my analysis, price points, and match ups to determine who to pick and although it doesn't always work out, the process is still correct. If we could all predict what would happen we'd all be rich. I've been getting a lot of good feedback from people and I appreciate it all. Thank you for following and reading these blogs as I enjoy putting the information out there for you to use.
Here are the odds for the quarterfinals from http://www.pinnaclesports.com/en/odds/match/e-sports/league-of-legends/league-of-legends-world-championship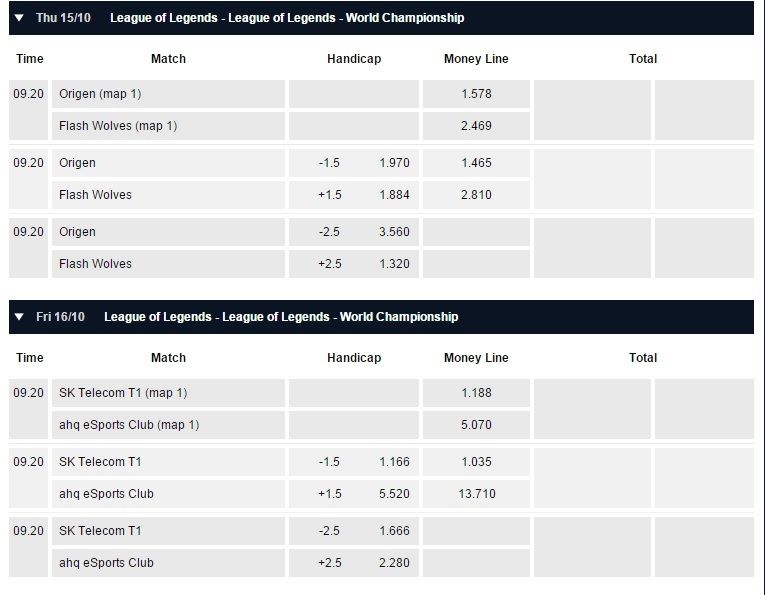 Origen, SKT, EDG, and KTR are the favorites to make the Semi-Finals. That said, SKT are the only overwhelming favorite while it is certainly reasonable to think that the other three match ups can go anyway. The best probable route to go is to stack up on SKT carries (marin, faker/easyhoon, Bang) and look for values in the other roles.
Here are my favorite players for the Quarterfinals: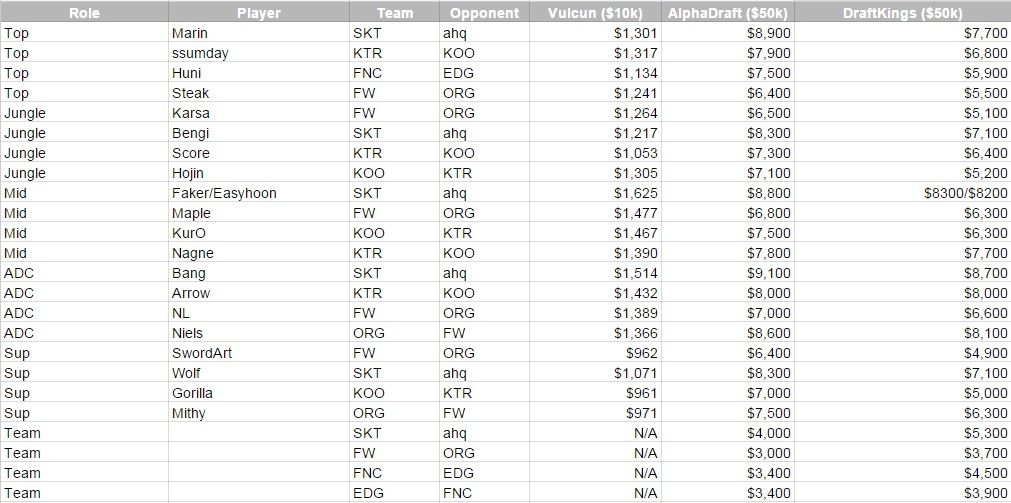 SKT is the best bet. Fit Faker, Marin, and Bang in wherever you can. My favorite value players come from FW in the form of Karsa and SwordArt, who has been underpriced all tournament. I have a lack of faith in the midlaners, not because of their skill but because of match ups. There are a ton of really good matchups in the midlane Nagne vs. KurO, Pawn vs. Febiven, xPeke vs. Maple. I think you either pay up for Faker or save and go with Maple, who has been great quietly great this tournament with the most kills and second most assists for any mid laner. I'm staying away from FNC and EDG for the most part. It's interesting because their players are relatively cheap, but I think this will be a really close match up that is hard to predict one way or the other. It could turn into a very objective focused series (as FNATIC does like to do this at times) which would limit fantasy output.
Vulcun:
Top: Marin (SKT) ($1301)
Jungle: Karsa (FW) ($1264)
Mid: Faker/Easyhoon (SKT) ($1625)
ADC: Bang (SKT) ($1514)
Sup: SwordArt (FW) ($962)
Flex One: GorillA (KOO) ($961)
Flex Two: ssumday (KTR) ($1371)
Flex Three: Score (KTR) ($1053)
You use your three SKT spots allowed on the three carries, while paying up they should be worth every penny. You also get to fit two top lane carries into your lineup with Marin and ssumday. You save by using two supports to pay up for value elsewhere, Karsa has the second most kills and third most assists among junglers and score provides a cheap jungle option even though he leads Worlds in assists from the jungle role.
Alphadraft:
Top: Marin (SKT) ($8900)
Jungle: Karsa (FW) ($6500)
Mid: Faker/Easyhoon (SKT) ($8800)
ADC: Bang (SKT) ($9100)
Sup: SwordArt (FW) ($6400)
Flex: Hojin (KOO) ($7100)
Team: Flash Wolves ($3000)
Again you use the three SKT carries. The rest of the lineup is quite cheap among FW players. I talked about SwordArt and Karsa above, but Hojin provides good value as his agressive style has him first in KDA among junglers at 8.4. Cheap team as always in FW, who could easily win their Best of Five against Origen.
Draftkings:
Top: Marin (SKT) ($7700)
Jungle: Karsa (FW) ($5100)
Mid: Maple (FW) ($6300)
ADC: Bang (SKT) ($8700)
Sup: SwordArt (FW) ($4900)
Flex One: Score (KTR) ($6400)
Flex Two: ssumday (KTR) ($6800)
Team: FNATIC ($3900)
This time you only get two SKT carries. Let's talk about that for a second. Draftkings does not combine Faker and Easyhoon into one pick, they're separated. Because of this, it's extremely risky to pick one or the other unless you are 100% sure that they are playing. If SKT vs ahq was the first match up of the week it'd be easier to get a handle on who was playing for SKT, but your lineup will lock after day one and if you stick Faker in while easyhoon is playing (or vice versa) you'll be paying the highest mid lane salary for no points. I'm going with Maple here instead and saving money. The savings go straight into ssumday to replace Faker's carry spot. With the leftover money I'm using FNATIC who are in a close matchup, but usually play objective focus in big games and that's where your team points come from.
Good luck and enjoy the Quarterfinals!
---
Report Entry