How little Tim became a Nintendo fan
Entry posted by Walram ·
1,362 views
How little Tim became a Nintendo fan
Ten years ago the GameCube was released in Holland and a few months later during my 10th birthday I was happily surprised with this beautiful console.
Together with this present I got two games. I ripped off the paper of the rectangular gift on top and saw a case with a dinosaur and a car on it.
"awesome", I screamed out loud when I saw the case, "shit", is what I thought when I played the game for 15 minutes.
I'm talking about Universal Studios Theme Park Adventure, one of the launchgames of the GameCube aswell as one of the worst games ever to be released on this platform.
It was my first experience with a launchgame and for the most part it ruined the excitement of getting the GameCube.
I could hear the stories in 4th grade from my friends playing Tekken and Ridge Racer, beautiful games that made little boys feel like real men.
There I was with a game that graphically looked like it jumped straight out of the Nintendo-64 ages.
Kemco was the developer of that game, a company that excels at making saltless games since 1985.
They had this crazy idea to develop an interactive themepark where you can walk around as a nameless child and enter all the different rides.
Those rides have well known Universal-films themes, like Jurassic Park, E.T. and Waterworld, and within each attraction is a minigame or something that is supposed to be a minigame.
Even though I just turned 11 years old I knew I was playing a bad game, because the minigames were boring and you could only play like 5 of them.
The waterworld ride was just a short movie (a ridiculously bad movie by the way).
My mom really had to endure during my gaming session. Not too bad, for I was not a spoiled child. And okay, I didn't exactly use the word "shit" because I wasn't allowed to say that.
It was just a scream of criticism that happened to be heard by the person closest to me.
I didn't master words like 'context', 'perception' and 'abominable' yet and couldn't express myself in the civilized and intelligent way that I like to believe I can nowadays.
I asked myself outloud how it was possible that such a game was released on the market and I still ask myself that question sometimes when I look back at the launchgames of the Nintendo 3DS for example.
But then...
It turned out to be a beautiful birthday anyways, because the second gift I received on my birthday was Super Smash Bros. Melee.
For me personally it was one of the best games ever released on the GameCube and the game I used to convince my friends to beg their mom for a GameCube.
That game was a boys dream where not only could I fight with the Pokémon I had glittery cards of, but also with my hero Fox.
I tried the first Super Smash on the Nintendo 64, but this game was bigger, better and more fun.
As a kid I enjoyed the dynamic and varied fights and later this game would be famous for its immersion and great balance in gameplay.
Super Smash Bros. Melee was more than just a very good game though, for me it was the starting point of a love for Nintendo.
As a todler I had a SNES, but at that age you don't really know what you're playing.
Super Smash made me realise though that I had played some historical games as a todler. The game handled its iconic characters and background really well.
As an 11 year old it made me excited about other exclusive titles of Nintendo.
Not much later my mom traded Universal Studios (thank god) for Luigi's Mansion and I got to enjoy The Legend of Zelda: The Wind Waker and Metroid Prime which conquered my heart.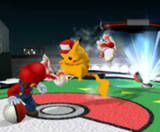 Now ten years later I'm a gamer applying to vVv and I wish my mom back then would have listened to the almost 20 year old-Tim of now. That would have saved me atleast one heart attack.
Buying Super Smash Bros. Melee on the other hand, has had a magical and historical impact on my perception of Nintendo.
It makes me realise how important it is that Nintendo gets rid of all those horrible launchgames and needs games like Super Smash Bros. A game that teaches kids to love Nintendo.
---
Report Entry