Entry posted by Rapture ·
2,105 views
(Original post date - 3/7/12)
I've decided to post up the first of my practice journal, SC2 Lab Sessions. Though I've been practicing Starcraft 2 for a couple of months now, today is the first day I'll be going over my day. I feel like recapping what I did today will help me with practice and keep things in perspective. Hopefully some analysis will help me with future matches.
Of course, it's sort of weird to just say, "HEY DIARY I PLAYED SOME STARCRAFT TODAY AND AND AND" and it's equally as weird to simply post on a blog about it, so let me give you some context.
My goal is to become a top Starcraft 2 player. Being a freshman in college, it's surprising that I have a lot of free time, but I do. With it, I try to get in several hours of ladder play a day. If I miss a day, I go harder the next day. I am coached by a friend, I practice with peers, and I go over tons of replays, including my own. Today was another "lab session", in which I sit down either in my room, at the library, wherever I feel like I can concentrate and play, and get to grinding.
Currently, I'm a high-ranked Silver league Terran. I'm pretty booty. But I'm trying to get better!
Usually what I like to do is to play at least ten games of SC2 a day. Once I've played them, I decide whether or not I have the time and/or will to continue forward. In a several hour session today, I got in 11 games. However, there were several games that lasted very long, so it seems skewed. In the amount of time I played today, I could have probably hit 15+ matches, but I digress. Here were the stats:
11 games played
4 wins
7 losses
Longest win streak – 3 wins
Longest loss streak – 7 losses
The day started out pretty well, as I clocked in a solid victory in a TvP Shattered Temple match. It lasted for only twenty minutes, it was a great warm-up game. However, it didn't prepare me for my next seven games, all of which I would lose. Some were close, some were atrociously bad on my end. Ultimately, what mattered was that I knew I had a lot of work to do.
What struck me was odd was my terrible TvZ play. The TvZ match-up had been pretty good for me earlier in the week as I began to figure out ways to deal with banelings and infestors, two units that were giving me a lot of trouble when I entered the Silver league. However, they weren't necessarily the problem this time around.
Three games in a row, I found myself the victim of early game roach all-ins. As hard as I tried, I just could not keep up with the production of marines to keep them out of my base so I could stabilize. Bunkers didn't work, more marines didn't work, and I couldn't get tanks out in time. I felt at a loss.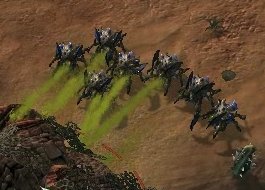 I began to analyze how I was playing. I went back to the replays and looked at what I had done, and I tried my best to figure out what it was that was going wrong. Still, it would take an outside party to help me out. I ended up asking a friend for help with the roaches, and I was told that marauders were a good solution to the roach pushes, except I'd have to get my second gas a bit earlier to maintain marauder production.
I was really happy with learning this, despite not actually having any more TvZ problems after that streak because I had no more roach all-ins against me after I asked my friend how to deal with them. I felt a bit of improvement, mostly in my knowledge.
But then I learned, the hard way and once again, that I still was not the most knowledgable in build orders. My coach, and many others, have told me how doing a simple build until Platinum league, while working on my macro, will make me a better player and only after then should I get into specific builds. Nevertheless, I still have the urge to try different builds, and I do. Sometimes I go more mech heavy, others I push harder with marines, still others I try a strong 1/1/1 or something like that. I like to mix it up, and it does work if I play well.
However, when sometimes I lose because I'm not playing well, others it's because I am simply an idiot. In one particular game, I got a TvT match-up with close spawns. Thinking I was smart, I decided to go with reaper aggression while expanding and pumping out marines. However, I know absolutely nothing about reaper builds and the timings behind them, so by the time I had about 4-5 reapers (which you don't need that many of, by the way), his army was ready to defend it and large enough to clean it up quickly. He then realized I had a small army and home, so he walked over, squatted over my face, and took a dump. I had to gg my way out of there.
So far, I was getting discouraged. The losses were piling up and I felt like I should just get off before I began to tilt. Finally, I got another TvZ pairing, and while I wasn't subject to a roach all-in, I had a long battle ahead of me. That was certainly not what I wanted – dealing with a maxed Zerg army can get difficult if the Zerg is maintaining a strong economy. My harassment skills are just not what they should be, so the Zerg was able to keep his economy strong and his army stronger.
There's a chance I could have won the fight, but I'll never know, and that's because my army micro, particularly when I have my units clumped onto each other, is terrible. My tanks were sieged, my marines stood before them, my thors in the mix, medivacs flying above, and 4/5ths of my ground army was washed away as banelings rolled in. Unable to micro effectively, my army literally disappeared before my eyes. If I had taken the banelings out, his army would have been toast. But I didn't. My lack of micro was splash-damage heaven.
Don't encourage the banelings, Husky!
I realized that I need to be more precise and do those actions when I'm in a conflict like that. My multitasking and microing has gotten better, but I still know it's a problem. Things like that, though, are inexcusable. I should have scanned to know exactly where his army was, sieged up, and split my army so I could avoid as much splash damage as possible.
Eventually, I lost my 7th game in a row. But I wasn't done yet. Shakuras Plateau was the map of choice, TvP was the match-up, and I found myself in another match. I was determined to win this one (against an opponent named SHEEK, cool name?), no matter the cost.
Lately, I've found that I've been doing a much better job of taking out expansions, and that's exactly how I won this match. As our Terran and Protoss armies got close to maxing, with all tiers of units being represented, I decided to make my way to his farthest right expansion (he had four bases at this time) as I expanded to my third base. Sieging tanks up, I took out pylons while he oddly advanced into the tanks. He also had Archons, for some reason not using High Templars, and ultimately I was able to hold it off, but just barely. His Dark Templar harassment was shut down very effectively, as were his drops. I definitely learned a bit about the drops just by how I handled them, very proud of myself!
After retreating a bit and bringing my army back in numbers, I hit the same expansion again, fully taking it out this time. Raging, my opponent began to curse me out and simply gg'd, giving me the win without me even stepping foot in his natural expansion or main base. Granted, my ground army had 3/3 upgrades and my air units getting close to it, and I was on a gold mineral expansion with bunkers churning out marines, but at least he could have invited me into his natural for a house warming.
Needless to say, I was happy, and after that I got another win on Metalopolis. Ten games down. I decided to stay in the library for one more game. I wouldn't leave for another hour.
You see, it was a long struggle in a TvT match-up, but a rather uneventful one. Our armies maxed out, fought in small battles a few times, but nothing actually happened until the half hour mark, when I began to push out toward the middle of the map after he successfully took out my third expansion. He probably got excited, seeing as my main and natural were getting close to empty in terms of minerals. However, I had expanded to a fourth and fifth base on another corner of the map, giving me much more of a steady income. And once I was able to push through to his expansions, using the siege tanks I had to keep his army away from my thors, his income literally stopped.
However, he was able to get another base going, and while I pumped out marines and was at max, as well as repairing my thors and tanks, he tried to max his army, as well. He got close to putting the gap a 50 supply. His army may have eventually matched mine, but after baiting him a bit with marines, he got edgy. Then I dropped into his natural to take out gas-mining SCVs and some buildings, prompting him to take all of his marines to stop this. This is when I moved closer to his sieged tanks. For some reason, just as I sieged up, he un-sieged and moved in, getting dealt tons of damage before he actually attacked. By the time his entire mass of marines raced back to help, it was too late. I had 6 more thors on the way and about two dozens marines marching closer and closer. Without so much as a good game, he left and the victory was mine.
Ultimately, while my record became worse, I learned a lot from this session. Here's what I learned:
1) Roach all-ins are very effective if you're not prepared to deal with it in the early game. Scouting for a roach warren and seeing little gas being taken can help find a roach all-in before it happens. Marauders mixed in with marines are a good option in holding off these kinds of attacks.
2) Don't try builds you don't know, stick with what you know.
3) Don't build too many reapers if you plan to harass with them, and actually have an army being built, or make your economy stronger, while making reapers so you can hold off a counter-attack if need be.
4) Microing large armies is key. Do not keep your units bunched up against banelines. Use stimpack to get out of there if need be, and don't clump up large mech units next to each other.
5) Scan and scout often. Make sure you know of all transitions, tech, upgrades, everything.
6) Don't let the opponent stabilize. Constantly make sure you know what is going on after you deal a large blow to the enemy. Keep the pressure on, keep the attack on (if you can) so that way the opponent doesn't bring it back. Don't blow opportunities to deal a game-winning knock-out.
Knowing these things, hopefully I'll do better tomorrow. I definitely felt like today's session was a good one. I learned a lot, even though I lost a lot. Winning is good, but you learn more when you are defeated. Until I'm the perfect SC2 player (which I will be, curse you DRG!), I will always have more to learn. That's how it goes.
Tomorrow, there's more SC2 to play. Fuck yeah.